The OHV Color Tour enters its 22nd year. This tour is for side by sides and all types of Off Highway Vehicles.
Meet new friends from all over the world as you experience four awe-inspiring days of FUN & epic adventure with self-guided tours through the majestic backcountry of the Collegiate Peaks section of the Sawatch Range of the Rocky Mountains. Ride through the breathtaking wilderness, home to an astounding twelve 14ers! It's the ultimate adventure with the highest concentration of 14,000 ft. peaks on the continent!
** Please note access to daily rides requires trailering your off-highway vehicle to trailheads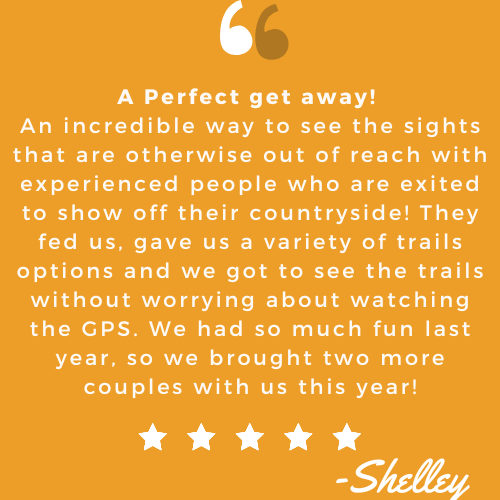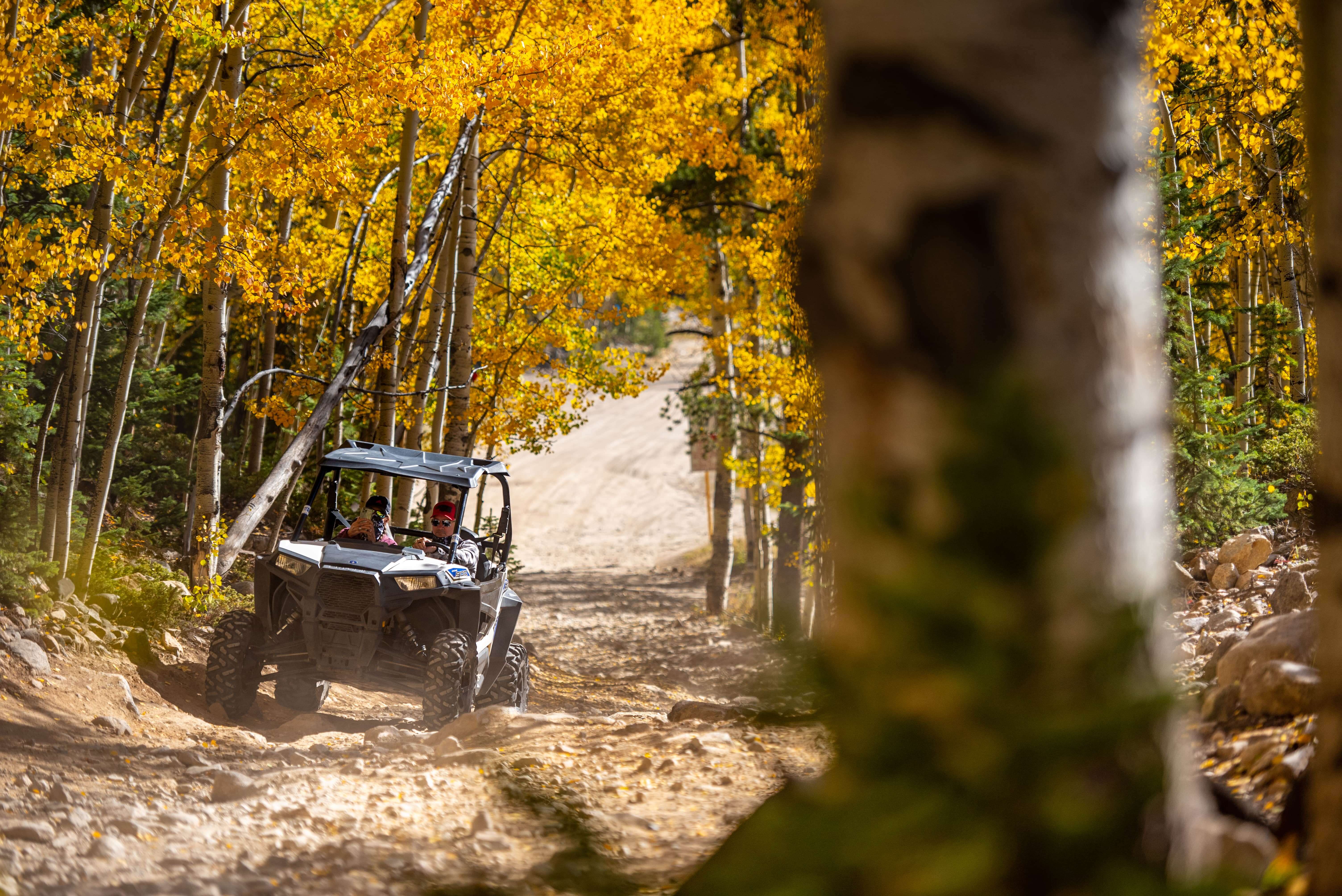 Buena Vista is minutes away from the San Isabel National Forest with its 1,109,782 acres of true splendor and over 700 miles of trails to explore.  Our town is also the gateway to the 148-mile-long Arkansas Headwaters Recreation Area with its Gold Medal fishing. To make things even more enticing we have two Hot Springs to relax in after a thrilling day's ride.  Participants will be able to explore old mining camps and ghost towns via high mountain passes where gold and silver ore were carried by mule wagons to the railroads.
Be sure to enjoy some time in our quaint, historic town enjoying local dining, shopping and local breweries and distilleries.
2023 Photo Contest Winners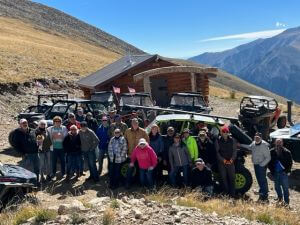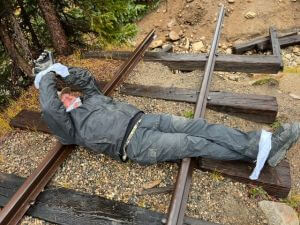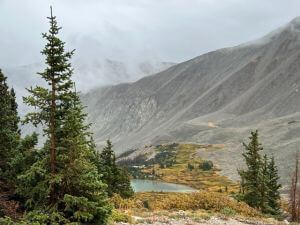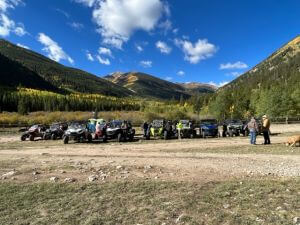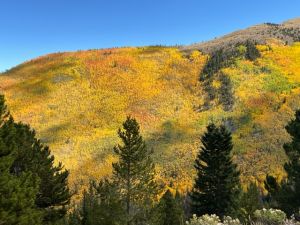 The OHV Color Tour is timed to coincide with the dazzling Rocky Mountain Fall colors with the shimmering, golden aspens against the bluebird sky.
Each morning riders choose their route, there are many to select from (different each day).  There are no more than 50 riders allowed on the same trail. The tour is run differently than most as there are no guides.
Each route will have a volunteer outrider ~ as a front-riding escort to answer questions and ensure safety for all.
Each rider chooses their self-guided ride and goes at their own pace.
Receive 50% OFF our "OHVing in 14er Country" Guide loaded with custom maps, details of each route, safety information and great history about the places you'll see.
The OHV Color Tour is hosted by the Buena Vista Chamber of Commerce and is operated with permits from the US Forest Service and the Bureau of Land Management. Set up as a self-guided event for Off-Highway Vehicles, most participants ride ATV's, side-by-side UTV's, or off road vehicles.
If someone in your group wants to ride an OHV motorcycle, that is allowed, as long as they ride with the group.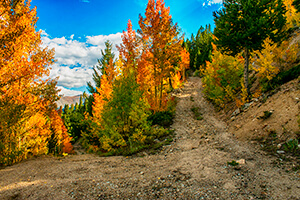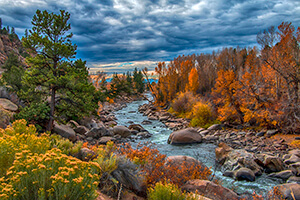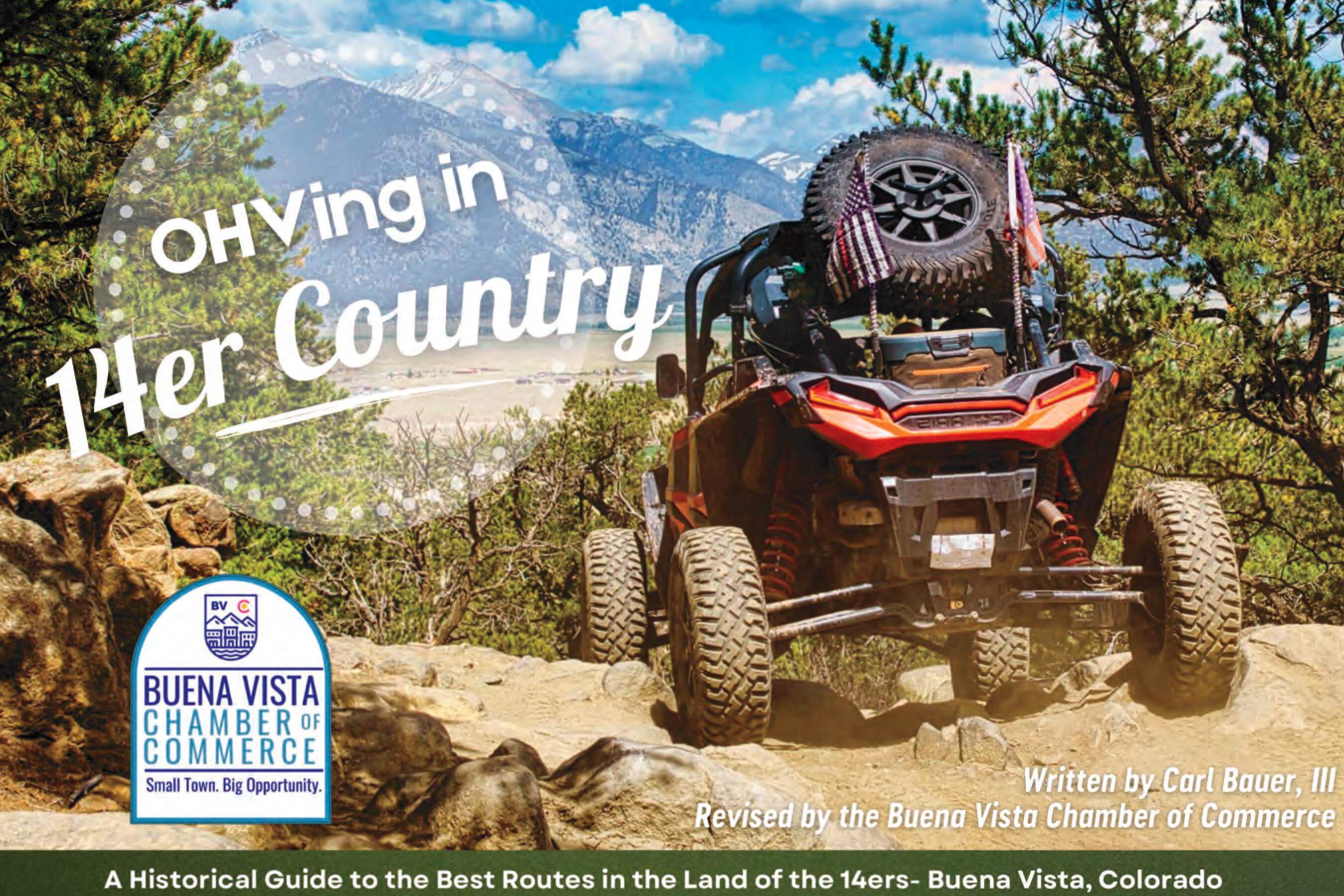 "OHV'ing in 14er Country" is the official guide book of the OHV Color Tour held each fall.  Although this book is geared toward OHV recreation, it can certainly be used as a guide for other forms of travel. Most routes require at least a high clearance vehicle such as an ATV, SUV, OHV, motorcycle, or 4 wheel drive vehicles.
Chaffee County offers some of the most varied riding terrain you will find anywhere. Throw in some history about the mining, ghost towns and railroad, then add incredible scenery and you've got . . .
14er Country!
This jam-packed book contains 13 spectacular (literally!) routes, with many off-shoot routes, including awesome history of the area within the route. It also has things to see and watch out for, where to fuel up, trail etiquette, environmental concerns, and safety information.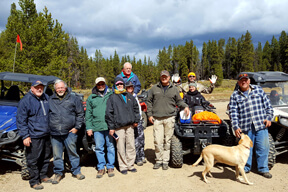 LAYERS!
South Central Colorado weather in late September is usually cool in the mornings (low to mid 40's), then warming up in the afternoons (60's – 70's).  Buena Vista is a mountain town at 8,000 feet above sea level.  The humidity is usually low, the sun shines a lot and anytime you're in the sun, it feels warm.  Temperatures can dip greatly if a storm approaches.  Most of the riding is between 8,500 – 10,500 feet above sea level with a little at 13,000+.
The best plan is to dress in layers and bring rain gear in case of changing conditions. Carry an emergency repair kit, food, water, warm clothing, an area map and guide, a flashlight and sunscreen.
For most of the rides you'll need to bring your own lunch and drinks for an on-the-trail snack.  Remember to drink plenty of water.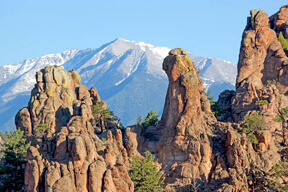 Your registration fee includes:
Public Lands Access Pass
Three breakfasts (Wed-Fri)
One event T-shirt (Must register by September 5th)
Pizza & Beer at Tues Registration
Friday night dinner
Daily drawings w prizes from our local businesses
Photo Contest ~ Winner announced at Friday Dinner
You have the option to purchase breakfast for Saturday morning when you register.
Buena Vista Chamber of Commerce will host registrants with pizza and beer on Tuesday during registration (4-6p).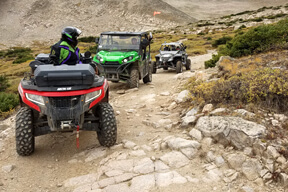 Because of the high altitude, some OHV's with engines that use carburetors may experience performance difficulties unless they are properly jetted.  Fuel injected engines in good working order, normally do not have any issues.
Colorado law requires ALL non-licensed vehicles using OHV trails to display a current Colorado OHV permit.  The permit (sticker) costs $25.25.  Permit information from the State can be found on their website.  Permits are available for purchase at Timberline Motorsports at 29770 US-24 in Buena Vista.
All of the trails are open to Off-Highway Vehicles.  
All of the trails for the event can be ridden on an APPROPRIATE OHV motorcycle.  "Appropriate" means, Enduro/Motorcross type bikes and some Dual Sport bikes.  Riding on the trails is NOT RECOMMENDED for any motorcycle bigger or heavier than a Suzuki DRZ 400.  It is not required that an OHV motorcycle be street-legal.
The event kicks off Tuesday evening at the "packet pick-up". You will be provided with more detailed information, any tickets you will need for the week, t-shirts, etc. One-on-one briefings are held to answer questions during this time.  Plus, it is a great opportunity to meet and mingle with your fellow riders (SO much fun!).
Each morning breakfast will be served at the location TBD.  At breakfast participants will sign up for their choice of the available rides. The ride lists change each day.  This is a terrific way to get to know the local outriders and learn more about the community and vast area OHV rides.
On Friday, the BV Chamber hosts all tour participants to an evening get-together and catered dinner with live music, featuring give-aways, drawings and more!