What's Important to YOU - matters to US!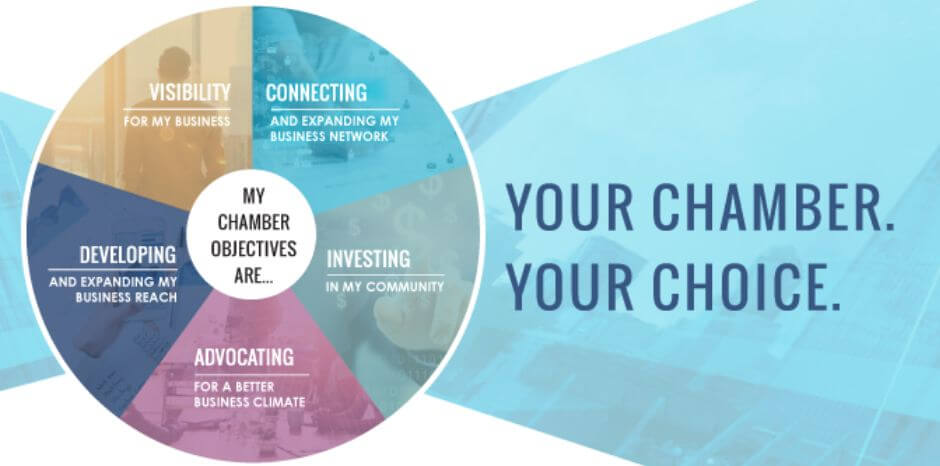 NEW! Flexible and Affordable Investment Plans
Today's business climate demands that the Chamber provide flexible, affordable and powerful programs and services that support your individual needs. Our membership, marketing and visibility program will allow members to invest at various tiers of membership based on bundles of programs and services providing valuable benefits for your organization.
We  now offer multiple tiered membership plans. This new structure is no longer defined by your business size or number of employees. Instead, membership is broken down into tiered levels with each plan offering different entry points and benefits. This allows you to choose a membership experience that fits your objectives and your budget.
Regardless of which tier you choose, all members at every tier receive a basic bundle of benefits valued at over $1,300. As members increase their investment, additional networking, marketing and services of escalating value are included.
Our exciting NEW membership program offers tiered investment levels for businesses of all sizes.
View or Print the MEMBERSHIP GUIDE to understand our new program and choose the tier that is right for your business.
We are excited for your interest in investing in and partnering with the Buena Vista Chamber!
Click below to apply for membership.
Looking for additional opportunities
to enhance your benefits and involvement within the Chamber?
Work with our team to create a customized packaged plan that includes amenities such as increased exposure throughout the year, sponsorship / association with premier events, programs and initiatives, access to exclusive events, and much more. We offer several different levels of high investment within our Chamber.
Contact us to discuss opportunities and create a plan tailored to achieving your objectives.
You're a small business (fewer than 5 employees) looking to become part of the business community's eco-system. Your interests are expanding and you're looking for resources that reduce costs and help your business grow.
You have a local presence and are looking for increased visibility, access to benefits and events, and want to use your voice to impact the direction of the region.
You want to be established as a partner in the business community, increase the visibility of your business, build a broader network, and gain access to exclusive opportunities.
You're looking to build on your community presence, take a more active role in advocating for businesses, and deepen your connections among peers and elected officials.
You seek to become a regional leader, ready to step into the spotlight as an organization that invests in the community and has interest in influencing regional strategy in partnership with other decision makers.
Our most prestigious level of membership offers a CAP (Customized Annual Package) with exclusive marketing and sponsorship opportunities.
Working with you, we can understand the needs of your business and demonstrate the wide variety of ways Chamber programs and services can help you achieve your goals.
We believe that the health of the business community and the
health of the larger community in which it lives are inextricable.
Our work here at the Chamber
– providing the tools that businesses need to succeed –
is central to the success of our
community as a whole.
Here are some of the Basic Benefits
of your membership
investment:
It's not just who you know, it's who others know and connecting to the right people.
Be sure to take advantage of our networking opportunities
and our M2M program (Member to Member benefits).
Stand out and be recognized as an active member of your community. Reputation is everything and Chamber membership lends credibility.
Increase your brand recognition and get more customers through our unique marketing opportunities.
Have a say in what happens through our advocacy efforts in representing the interests of business with local, state and federal government.
Take advantage of greater opportunities with our Government Affairs and Business Affairs/Development committees.
Expand your business knowledge and professional skills with workshops and seminars put on by the Chamber and partner organizations.
We are your "resource hub".